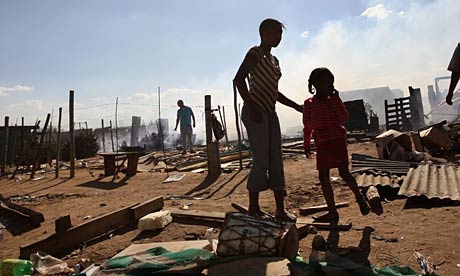 yesterday i went to Sweet Home Farm. quite nothing like what it sounds. it's name makes it sound like an organic bakery or a new plot at
Serenbe
. but it is an incredibly poor settlement where The Warehouse has become involved. they helped a woman named Christina open a restaurant. simple, basic, tiny little place, with the best fried bread sandwiches i have ever eaten. they are called
amagwinyas. actually i think they are the only fried bread sandwiches i have ever eaten. either way, i want another one. they use the tiny space for meetings and Bible studies and prayer groups when needed. she will even cook for you if you come here. you have to call 24 hours in advance to let her know you are coming, but i hear her mealie pap is out of this world. she works alongside a Warehouse worker and former restaurant owner in establishing her small business. i seriously recommend this place if you are coming to Cape Town. i love total dives and this is the epitome, a real gem, a blessed treat. the Warehouse also offers HIV/AIDS support groups within the settlement and i am going to that today.
Sweet Home Farm is an informal settlement that was originally a rubble dump in the Philippi farm area and is now home to approximately 12 000 people, with around ten people per home. In 1995 it was a small group of 15 shacks, but has grown each year as people have settled there for lack of better options. It is still largely undeveloped in terms of access to water and electricity. "One of the problems is that half of the land is council land and the other half is privately owned, so the council cannot put in amenities like electricity and water," explains Goodman James, who works with Joy in the community, employed by The Warehouse, as well as a resident of Sweet Home Farm. Half of the community have no proper toilets and the other half share six families per toilet unit.
Community leaders estimate that the unemployment rate is a shocking 70% and malnutrition and other social ills that go with poverty, pervade. "One of the most worrying things is the lack of access to education in the community," says Ntlalo Mgadela, a member of the community and youth worker, "And the children have to walk or go by buses to schools in other areas." He goes on to explain how the lack of ability to provide for one's family has resulted in many fathers losing hope completely as they watch their children struggle and not get the opportunity for a better life. "This leads to breakdown of the family unit," he said, "And it's soul destroying for the men in the community." The HIV/Aids rate is very high and the only clinic in the area services children and TB patients, but nobody else.
Sweet Home Farm is a community facing many social evils and although only a few kilometres from the wealth of the suburbs and city centre, is excluded from the benefits. Most of the people who live there will never see the 'other side' of Cape Town. It is more susceptible to disasters such as flooding and fires, due to the lay of the land and the closeness of the homes, largely made up of wood and tin.